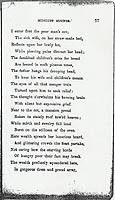 I enter first the poor man's cot;
The sick wife, on her straw-made bed,
Reflects upon her lowly lot,
While piercing pains distract her head;
The famished children's cries for bread
Are issued in such piteous tones,
The father hangs his drooping head,
To hear his wife and children's moans.
The eyes of all that meager train
Turned upon him to seek relief:
The thought o'erwhelms his burning brain
With silent but expressive grief.
Near to the cot, a mansion proud
Raises its stately roof tow'rd heaven;
While mirth and revelry full loud
Burst on the stillness of the even.
Here wealth spreads her luxurious board,
And glittering crowds the feast partake,
Not caring how the starving horde
Of hungry poor their fast may break.
The wealth profusely squandered here,
In gorgeous dress and proud array,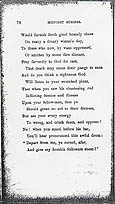 Would furnish forth good homely cheer
On many a dreary winter's day,
To those who now, by want oppressed,
Or smitten by some dire disease,
Pray fervently to God for rest,
That death may come their pangs to ease.
And do you think a righteous God
Will listen to your wretched pleas,
That when you saw his chastening rod
Inflicting famine and disease
Upon your fellow-men, that ye
Should grant no aid to their distress,
But use your every energy
To wrong, and crush them, and oppress?
No! when you stand before his bar,
You'll hear pronounced this awful doom:
"Depart from me, ye cursed, afar,
And give my humble followers room!"