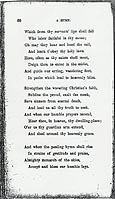 Which from thy servants' lips shall fall
Who labor faithful in thy cause;
Oh may they hear and heed the call,
And learn t' obey thy holy laws.
Here, often as thy saints shall meet,
Deign thou to enter in the midst,
And guide our erring, wandering feet,
In paths which lead to heavenly bliss.

Strengthen the wavering Christian's faith,
Subdue the proud, exalt the meek,
Save sinners from eternal death,
And lead us all thy truth to seek.
And when our humble prayers ascend,
Hear thou, in heaven, thy dwelling-place;
O'er us they guardian arm extend,
And shed around thy heavenly grace.

And when the pealing hymn shall rise
In strains of gratitude and praise,
Almighty monarch of the skies,
Accept and bless our humble lays.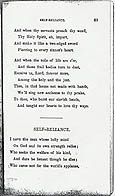 And when thy servants preach thy word,
Thy Holy Spirit, oh, impart,
And make it like a two-edged sword
Piercing to every sinner's heart.

And when the toils of life are o'er,
And these frail bodies turn to dust,
Receive us, Lord, forever more,
Among the holy and the just.
Then, in that house not made with hands,
We'll sing new anthems to thy praise,
To thee, who burst our slavish bands,
And taught our hearts to love they ways.