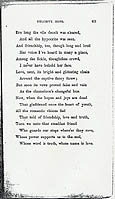 Ere long the vile deceit was cleared,
And all the hypocrite was seen.
And friendship, too, though long and loud
Her voice I've heard in many a place,
Among the fickle, thoughtless crowd,
I never have beheld her face.
Love, next, its bright and glittering chain
Around the captive fancy threw;
But soon its vows proved false and vain
As the chameleon's changeful hue.
Now, when the hopes and joys are dead
That gladdened once the heart of youth,
All the romantic visions fled
That told of friendship, love and truth,
Turn we unto that steadfast friend
Who guards our steps where'er they rove,
Whose power supports us to the end,
Whose word is truth, whose name is love.