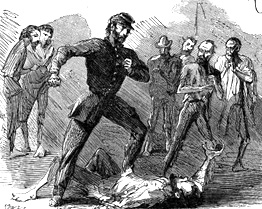 THE HISTORY OF CIVIL WAR PRISONS

Hesseltine, William B. Civil War Prisons: A Study in W ar Psychology. (Ohio State UP, 1998) A classic first published in 1930 which presents the historiographical controversies surrounding prison administration and policy.
Speer, Lonnie R. Portals to Hell: Military Prisons of the Civil War. Mechanicsburg, PA: Stackpole Books, 1997.
Marvel, William. Andersonville: The Last Depot. Chapel Hill : University of North Carolina Press, 1994.
U.S. Civil War Center: links to sites on prisons. The best index of sites on the subject, though not annotated. I have selected some of the most useful:
WHITMAN

Mc Elroy, John Harmon, ed. The sacrificial years : a chronicle of Walt Whitman's experiences in the Civil War. Boston : David R. Godine, 1999.
Berthold, Dennis and Price, Kenneth M., eds. Dear Brother Walt: The Letters of Thomas Jefferson Whitman. Kent, OH: Kent State UP, 1984, pp. 97-109.
Erkkila, Betsy. Whitman the Political Poet. New York: Oxford University Press, 1989.
Reynolds, David S. Walt Whitman's America. New York: Knopf, 1994.
The Whitman Hypertext Archive at the University of Virginia; the granddaddy of all Whitman sites (no advertisement intended, of course...)
DICKINSON

Dobson, Joanne. Dickinson and the Strategies of Reticence: The Woman Writer in 19th-century America. Bloomington: Indiana UP, 1989.
Smith, Martha Nell. Rowing in Eden: Rereading Emily Dickinson. Austin: U Texas P, 1992.
Juhasz, Suzanne. The Undiscovered Continent: Dickinson and the Space of the Mind. Indiana UP, 1983.
The Dickinson Electronic Archives and The Emily Dickinson Page have useful links to poems, manuscripts, and reader's comments
NINETEENTH-CENTURY POETRY

Wilson, Edmund. Patriotic Gore: Studies in the Literature of the Civil War. London: Hogarth, 1987 rpt. Classic study.
Steinmetz, Lee. Poetry of the American Civil War. Michigan State UP, 1960. Anthology.
Hollander, John, ed. American Poetry: The Nineteenth Century. New York: Library of America, 1993, 2 v.
Bennett, Paula Bernat, ed. 19th-century American Women Poets: An Anthology. New York: Blackwell, 1998. Good critical apparatus with an emphasis on social life; especially useful for looking at lesser-known writers publishing in newspapers.
Walker, Cheryl, ed. American Women Poets of the 19th Century. Rutgers UP, 1992. Introduction treats women and "captivity theme."
Legacy: A Journal of 19th-Century Women Writers maintains a searchable web site.
POETRY OF TRAUMA, WAR, AND PRISON LIFE

Forche, Carolyn, ed. Against Forgetting: 20th-century Poetry of Witness. New York: Norton, 1993. This excellent global anthology of poetry written under conditions of duress has a useful introduction.
Felman, Shoshana and Laub, Dori, eds. Testimony: Crises of Witnessing in Literature, Psychoanalysis, and History. Routledge, 1992. Theoretical concepts for analyzing the literature of trauma.
Chevigny, Bell Gale, ed. Doing Time: 25 Years of Prison Writing. New York: Arcade, 1999.