This is the opening page of Louisa May Alcott's Hospital Sketches, a thinly-veiled fictionalized account of her time in Washington, D.C., spent as a Union nurse in 1862. Originally published in four installments in The Commonwealth, a Boston abolitionist newspaper, it was later released as a book in 1863.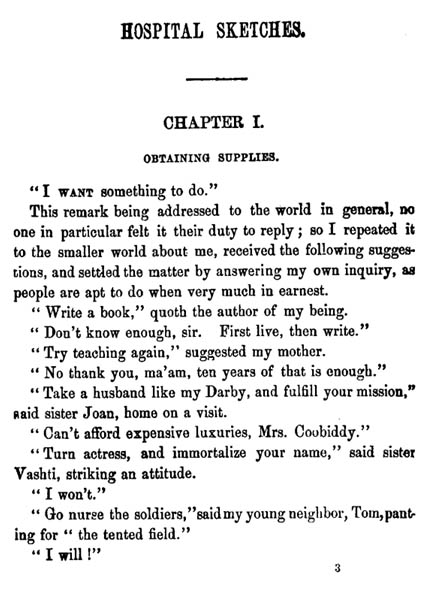 After she voices her desire to "do something," the narrator, Tribulation Periwinkle, is offered the following options: authorship, teaching, marriage, and acting.
But "panting" for the "tented field" like her male neighbor, Tom, Tribulation chooses to become a nurse. Even on this very first page of the book, this choice aligns her desires with those of a man from outside her family, as if to emphasize the gender and familial boundaries that a woman's decision to participate in the war will variously destabilize.