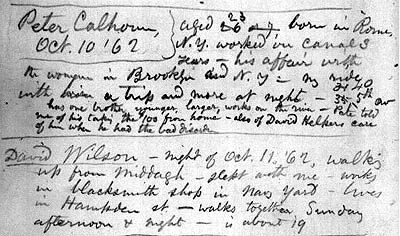 Peter Calhoun
Oct. 10 '62 aged 23, born in Rome,
Oct. 10 '62 N.Y. worked in canal 3
years--his affair with the woman in Brooklyn and N.Y. -- my ride
with him a trip and more at night -- 40 5th av
has one brother younger, larger, works on the river--Pete told
me of his taking the $100 from home--also of David Helpers care
of him when he had the bad disorder


David Wilson -- night of Oct. 11, '62, walking
up from Middagh -- slept with me -- works
in blacksmith shop in Navy Yard -- lives
in Hampden st. -- walks together Sunday
afternoon + night -- is about 19
The two passages occur one after another on page 32 of the same notebook.
Even before arriving to nurse soldiers in the Washington, D.C. hospitals, Whitman's notebooks record incidents of men caring for each other in sickness and in health. For example, this page shows David Helpers's care for Peter Calhoun when he had "the bad disorder," recorded immediately before the notation of "sleeping with" David Wilson the very next night.
What does "slept with" mean in this context? How is it similar to--or different from--the other examples of men caring for men recorded on the page?